♫ ♬ ♩ It's the most wonderful time of the year, with the kids jingle belling and everyone telling you be of good cheer! ♫ ♬ Can you feel the holiday season, whispering in?
Nah, I bet not. 
Christmas 2020 might probably be the loneliest among all the Christmases we've had since time immemorial. It's the very first time in decades that we're canceling festivals, parties, night markets, and other events we used to enjoy. The pandemic put our lives on hold for a couple of months (and it's no different in December) but hey, it's great that we're seeing some sparkling lights at the end of the tunnel. They're just a few sparks in the dark, but they're enough to keep us going. 
My question is: if not for the pandemic, where's the best place to celebrate Christmas? 
If your idea of a perfect Christmas destination involves quirky, postcard-worthy guild houses, busy squares that offer limitless opportunities for dining and shopping, and Christmas decorations that glitz up at night, then Belgium is definitely the best place to be. We've got great food selections, beer, and chocolates — just a few reasons to keep our Christmas spirits high. 
Belgium is known for its festive Christmas markets that look like they're taken straight from the miniature Christmas village from your childhood. While you can't enjoy them this holiday season, let this article inspire you to look forward to next year's Christmas celebration in Belgium. 
Here are 5 best Christmas Markets to visit in Belgium. 
1. Bruges
If you're staying in a hotel in Bruges during the holiday season, consider yourself lucky: you're only a couple of blocks away from the most picturesque Christmas market in Belgium. 
Bruges preserved its 13th-century charm, with every sight and scene feeling like a medieval fairytale. It's smaller and cozier compared to other towns, so you'll feel like living in a real-life Christmas village. 
Bruges' artisanal markets are spread over two spots. The most popular ones are the stalls selling local food and drinks, crafts, Christmas decors, and souvenirs below the Belfort in Markt. You'll see horse-drawn carriages, always ready to tour you around the postcard-worthy town. 
If you wish to have a wintry Christmas celebration while avoiding the crowds, Minnewater Park has an eco-friendly ice rink you can go to. You can also walk along the canals the town is known for. 
2. Antwerp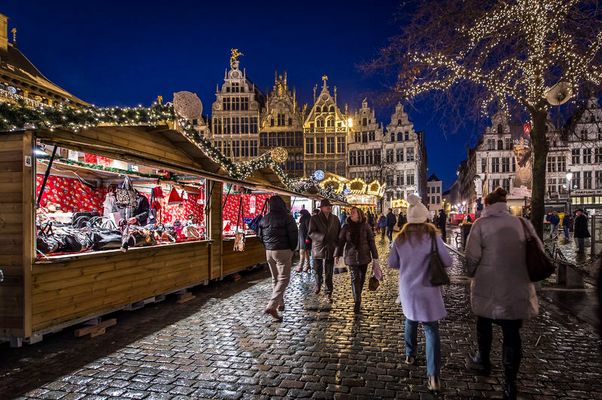 Antwerp is twinkling during the holiday season. The charming buildings of the old town become even more magical at night when they are lit up. You'll feel like walking in a fairytale book, starting from the magnificent Central station, all the way to river Schelde. 
Antwerp Christmas market is quite massive, with over 100 market stalls, an ice-skating rink, and rides and attractions the kids will enjoy. For us adults, happiness can be found by simply enjoying cozy bonfires, eating waffles, and sipping Gluhwein, a traditional warm mulled wine served by market stalls during Christmas. 
3. Brussels 
If you think Brussels' Grand Place is marvelous, wait until it's winter. Brussels Christmas Market is probably the biggest and busiest in Belgium. Multiple squares, including the Grand Place and Place de la Bourse, are embellished with colorful lights, glossing over their gilded facades, plus over 200 market stalls keeping everyone busy. 
Aside from a giant Christmas tree in the middle of the main square, there'll be choirs singing Christmas hymns, a humble nativity scene, music and light shows, an ice rink, and various food stalls selling Belgian hot chocolate, waffles, and jenever ('Dutch or Flemish gin). If that's not Christmasy enough, I don't know what is. 
4. Ghent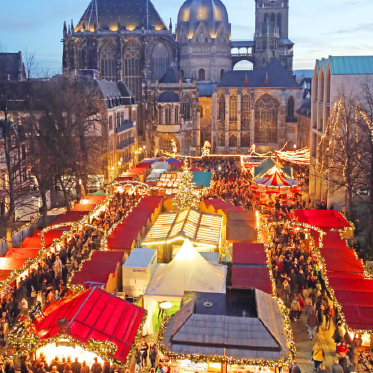 Ghent's medieval charm has barely changed in 600 years. Unlike Bruges, the historic city is less on the vivid "Disney fairytale" vibe and more on the moody Gothic aesthetic. But don't be fooled: Ghent Christmas market is vast and vigorous, and it still feels as if the whole town is in the Christmas spirit. 

The medieval city's market boasts over 150 craft and food chalets, lined along the historic centre from Korenmarkt to Sint-Baafsplein. Watch out for the City Pavilion which hosts an elegant skating rink, as well as quirky attractions like the merry-go-round. Check out the medieval castle of Graventseen too, which transforms into a winter wondercastle every year. 
Liège Christmas Market 
A quirky Christmas village awaits at Liège, a big town in the French-speaking part of Belgium. The town is proud of its Village de Noel, whose charming layout can make you feel like you're in a real, humble village. It has wooden chalets lined along the alleyways, a square with a town hall, a church, and a post office. 
Aside from the picturesque view, Liege Christmas Market stands out by offering top-notch food. Liege, after all, has a mix of Belgian, German, and French Christmas traditions so expect different culinary delights. The Christmas village invites its guests to dine gourmet-style in cozy, warm tents. To boost your Christmas spirits, there'll be a brass band parade every Saturday, as well as traditional choruses and folk dance performances every Sunday.
Author Bio: Carmina Natividad is a free-spirited writer who loves to eat and go on fun adventures. She's got a lot to say about travel, dining, cultural enjoyment, and lifestyle. To know more about hotels and travel tips, you may visit Green Park Hotel Bruges.