Wireless handsets by the Clarity brand are loud, simple, and easy to use. Users can easily handle these handsets for making clearer calls. These handsets eliminate all the surrounding noise for getting clearer audio results. You can listen to every single word of the caller in this way. People working in offices rely on these handsets due to their voice clarity. Noise distorts the voice and affects the audio. That is why users want a handset that evicts all the impacts of background noise.
Let's discuss 5 best wireless phones by clarity:
1)

Clarity XLC7BT Wireless Phone

:
This phone is equipped with Bluetooth technology for good connectivity solutions. You can relish loud and amplified calls with or without a landline. It pairs with your cell phone or mobile device to make calls. It offers connectivity to two Bluetooth-enabled cell phones.
However, it also ensures connectivity to one cell phone and one Bluetooth-enabled headset. This phone guarantees digital amplification of up to 50 decibels with four tone settings. Its handset consists of a loud and clear speakerphone for a great calling experience.
It also contains a synchronized phonebook of up to 1000 records. This phone has a talking caller ID and talking numeric keypad for the user's easiness. Thus, it makes users aware of the identity of the caller. You can avoid spam calls easily in this way. It has a backlit dial pad with large buttons for easy dialing.
2)

Clarity D702 Handset

:
This handset combines hearing, vision, and mobility solutions into a great calling solution. It uses DECT 6.0 wireless technology for a secured and reliable calling experience. This phone is designed for people with hearing problems. It is easy to hold due to its lightweight design.
Users can talk to the clients easily without any discomfort for long sessions. Large font and high contrast caller ID screen bring ease to the life of users. It also consists of a backlit keypad that helps you to see at night. Contoured keys of this handset with soft-touch material are also a source of comfort for users.
Walker handsets are equipped with amplified audio and more clarity. The design of these handsets is compact and handy to use. That is why users highly prefer these handsets for official calls. They offer secure calling solutions in environments where background talks must not be overheard on the telephone. They bring comfort to the life of users through their nice build quality.
3)

Clarity D704 40db Wireless Phone

:
It is a low vision and big button wireless phone which offers a great calling solution. It amplifies incoming sound up to 40 decibels which is quite a great aspect for the buyers. Its audio results are 20 times louder than a standard home phone. This phone system offers DECT 6.0 technology for satisfying the calling needs of users.
This gadget provides clear and noise-free calling.  Panasonic Handsets are built with new noise reduction technology. They permit users to talk in a good way without any disturbance. You can enjoy wireless calling solutions with the help of these handsets. DECT 6.0 technology is liable to raise the efficiency of these handsets. It offers long-range wireless and secured calling solutions.
4)

Clarity XLC3.4 Plus Handset

:
It is a loud, simple, and easy-to-use amplified wireless gadget. The amplification of this handset features up to 50 dB of Digital Clarity Power. The features of this phone include DECT 6.0 technology, a loud speakerphone, etc.
The large and high contrast buttons of this phone grab the attention of more users. These buttons are quite easy to press and see. The phone also speaks the numbers as they are dialed. The talking caller ID feature of this phone is the major reason for the buyer's interest.
5)

Clarity 53714 DECT 6.0 Wireless Handset

:
This phone consists of a digital answering system for getting the best calling results. It is liable to amplify incoming sound up to 40db. It also contains adjustable tone control for making the calling experience of users easier.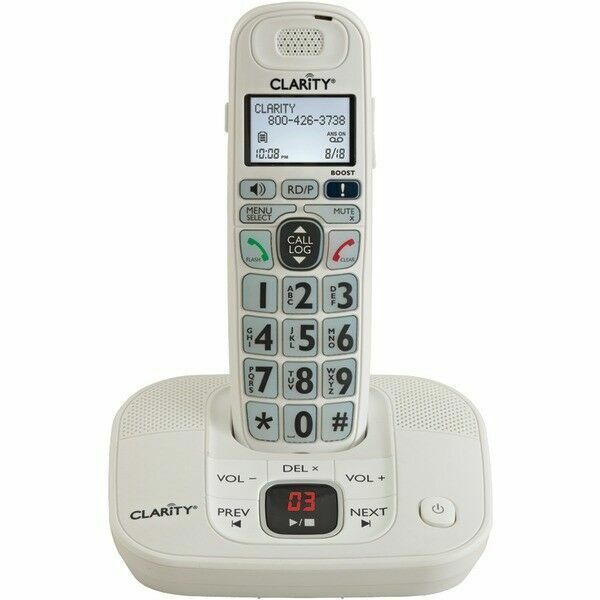 Thus, you can make proper tone settings as per your desire. People working in offices want a handset which helps them to talk to clients in a good way. Client ease is the main goal of a business. The sales of a company depend on the increased ease of clients.
That is why staff needs a handset which delivers clear and louder audio for listening to the demands of clients in a good way. This handset is highly liked in offices due to its unique looks and great performance. It helps to make your clients satisfied and happy. The profits of the company also rise with better calling audio.
Final Words

:
All the above-mentioned wireless phones by Clarity handsets are most commonly known due to their professional audio results. They assist people in getting clearer and louder acoustic results. They are also considered a great option for people with hearing issues. Official calls are handled in a good way through the high-class audio quality. You can listen to the voice of the client easily without missing a single word. You can also simply get the office goals by satisfying the client's needs. You can place the order of your desired gadget by visiting FindHeadsets.